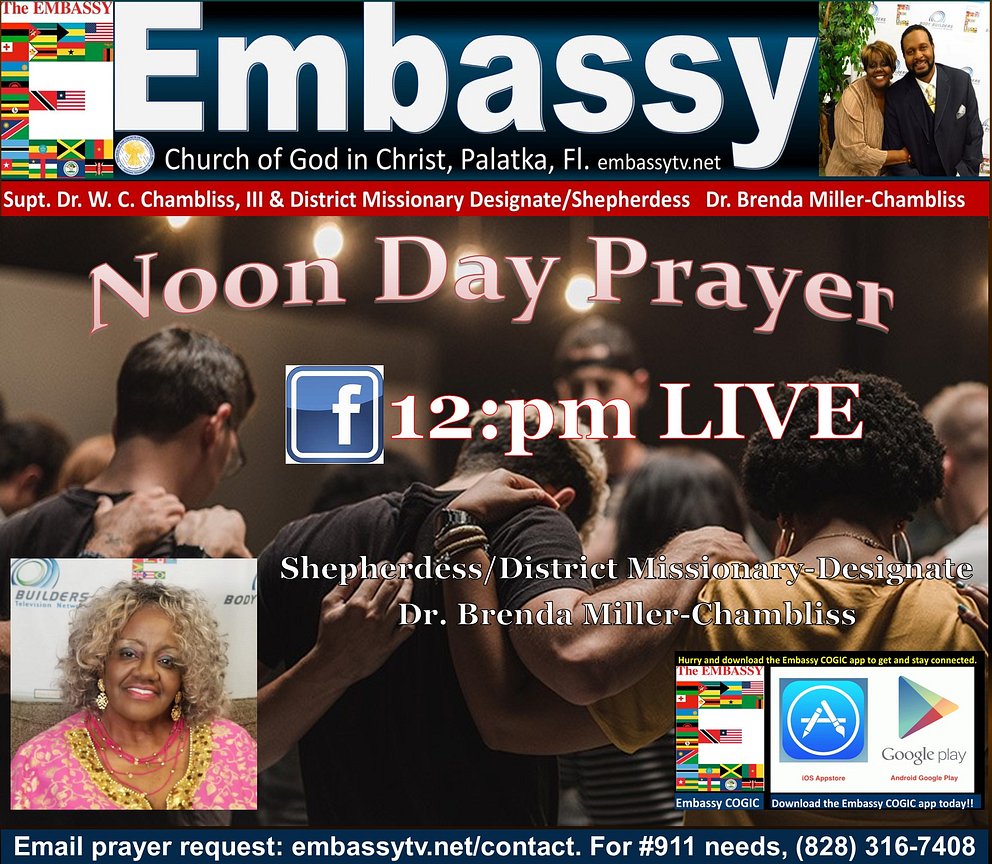 Do you need prayer?
Family, finances; grief; illness, emotional issues?
Whatever you're going through, you don't have to face it alone.
Yes, Jesus cares about us.
He cares about the big things in our lives; He cares about the little things in our lives.
He knows when we hurt; He sees when we cry; He feels our pain and our grief, and He cares; and we here at the Embassy COGIC Cares about you also.
Don't face that situation alone, let us pray for you. Embassy Church of God in Christ, Palatka, Fl (828) 316-7408, Supt. Dr Will Chambliss and Shepherdess/District Missionary Designate, Dr Brenda Miller-Chambliss.
There is no distance in prayer, this prayer can reach local, regional, national and international. If you have a specific need, please email it or drop it where ever you are watching this prayer.
Here is the link for prayer request: https://embassytv.net/prayer-time).
For our local area, we have a evangelistic outreach; Prayer 30-30 We are specifically praying for the areas that are 30 miles and 30 minutes from Palatka, in: Putnam, Clay, Flagler and St Johns counties.
: https://embassytv.net/prayer-time).
Here at the Embassy COGIC of Palatka, Fl; we are on a campaign for souls.
https://www.embassytv.net/ministry-opportunity
Our mission at the Embassy C.O.G.I.C:
is the see the lost saved;

the backslider reclaimed,

people filled with the baptism of the Holy Ghost, with the evidence of Speaking in tongues;

taught the word of God,

identify their gift,

trained in the ministry

and launched into Kingdom service as Disciples of Christ

and Ambassadors of the Embassy Church o

If you are not a part of a church where you can go, grow, be trained and identify your gifts, you need the Embassy C.O.G.I.C. and we need you.
Reach out today:https://embassytv.net/contact.